PSI publishes MagSurvey marine/land Magnetometer Surveying software. The only magnetometer surveying software featuring real-time 3D visualization. New version 5.3 (July, 2014) adds additional supported magnetometers and improves displays affected by recent Windows releases.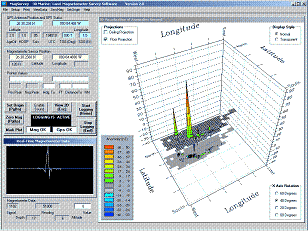 Perception Systems, Inc. provides cost-effective contract development of electronic products and equipment. All phases of hardware and software development can be handled, and prototypes can be provided. We take pride in providing concise and reliable designs.
Click Here for Information on Electronic
and Software Contract Engineering

PSI has developed small quantities of the MetLSurvey Metal Locator Surveying software/hardware system.
Click Here for Information on the
MetLSurvey Metal Mapping System
for Metal Detecting
NOTE: This Product is no Longer Offered
Due to Discontinuation of Host Hardware
and Operating System

PSI also develops and produces electronic equipment, firmware, and software for specialized SCADA systems.

Note: As with many legitimate web sites, MagSurvey.com has been the victim of mass email spoofing. Neither PSI nor our host Infoquest has ever sent mass mailings from MagSurvey.com. Any such mailings have come from unknown, unscrupulous third parties. If the email does not have the IP address 65.61.16.22, it did not originate at MagSurvey.com.

Perception Systems, Incorporated
8117A Northboro Ct, West Palm Beach, FL 33406 USA
Tel: 561-433-0033 Email: info@magsurvey.com
Webmaster: DonLand@magsurvey.com
PSI is a Florida corporation, incorporated 1982.